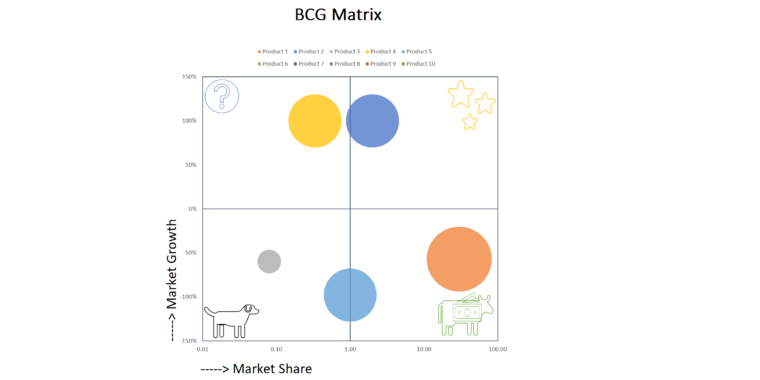 The BCG Matrix (also know as the Boston Matrix, growth-share matrix, product portfolio matrix, Boston Box, Boston Consulting Group analysis, portfolio diagram) is a chart that helps businesses analyse different products in their portfolio. If you are already familiar with the matrix, feel free to skip right to the end where we have a download link for the BCG matrix template.
Overview of the Boston Matrix
The Boston Matrix was created by the Boston Consulting Group in 1970 to help businesses analyse their portfolios. It helps the business allocate resources to the correct products.

Dogs (Low Market Share – Slow Growth)
Dogs are products with a low market share in a slow-growing industry. Most likely they are generating a loss or are break-even at best. The question is if the company's resources should be spent on other products instead. In most cases they need ongoing investment just to keep the status quo. According to most sources, these should be sold off.
Cash Cows (High Market Share – Slow Growth)
Cash Cows have high market share in a slow-growing industry. They earn more that the investment needed to sustain its current market position, hence the name Cash Cows. It isn't advised to invest any more than needed into these products as they are in a mature industry. Cash Cows are used for funding Stars.
Question Marks (Small Market Share – High Growth)
Question Marks (also known as problem children) are products with a small share in a high-growth industry. This is where most new products start from. They should be analysed carefully and if deemed fit, invested in, in the hopes of moving them on to Star status and eventually to a Cash Cow once the industry has matured. If investment hasn't been successful and market growth slows, they will move to a Dog status.
Stars (High Market Share – High Growth)
Stars are plotted on the matrix in the upper right quadrant. These are your top performing products since they are in a high-growth industry and you have a high market share. Stars require a lot of investment to keep their market share and to sustain growth. If growth starts to decline but you are able to keep the market share, they will become Cash Cows. If market share starts to decline as well, they will move down to the Dog quadrant.

We've made an easy to use Boston Matrix template available for download on our site. The Matrix itself is on the left hand side, and the input data on the right.
How to use the BCG Matrix Template?
You can add up to 10 different products to the input table. If you don't need all 10, just leave them blank and they will be omitted from the Boston Matrix.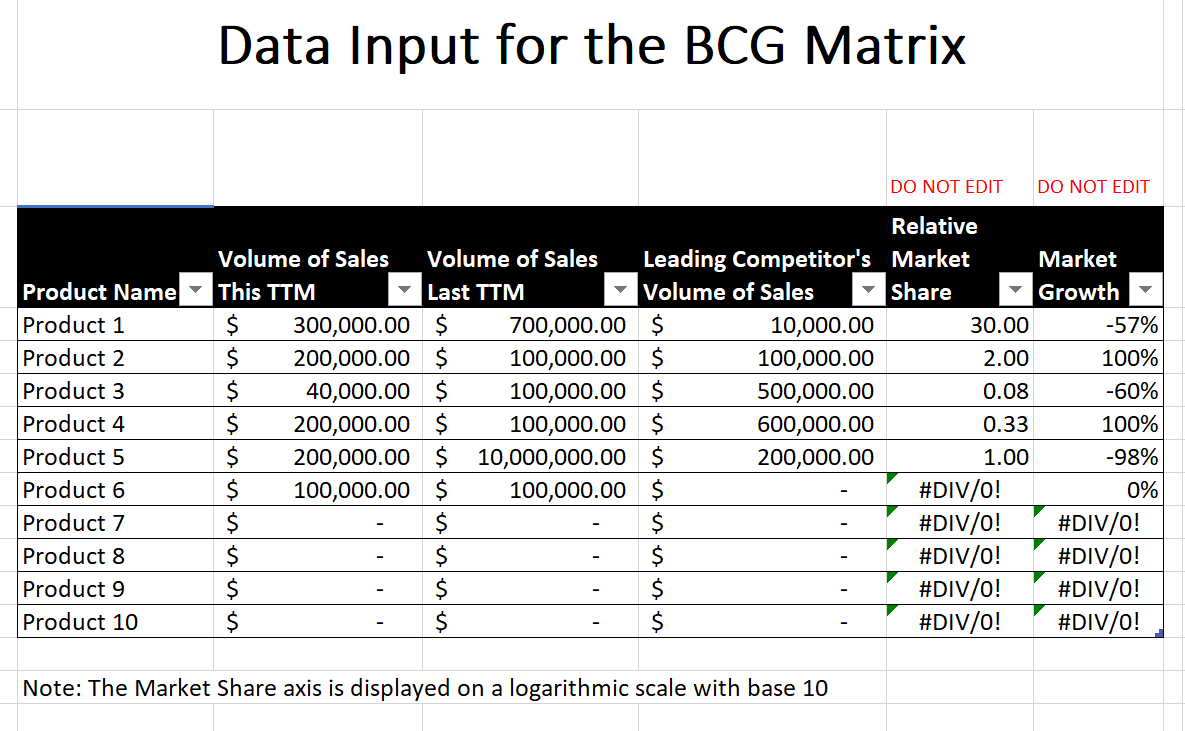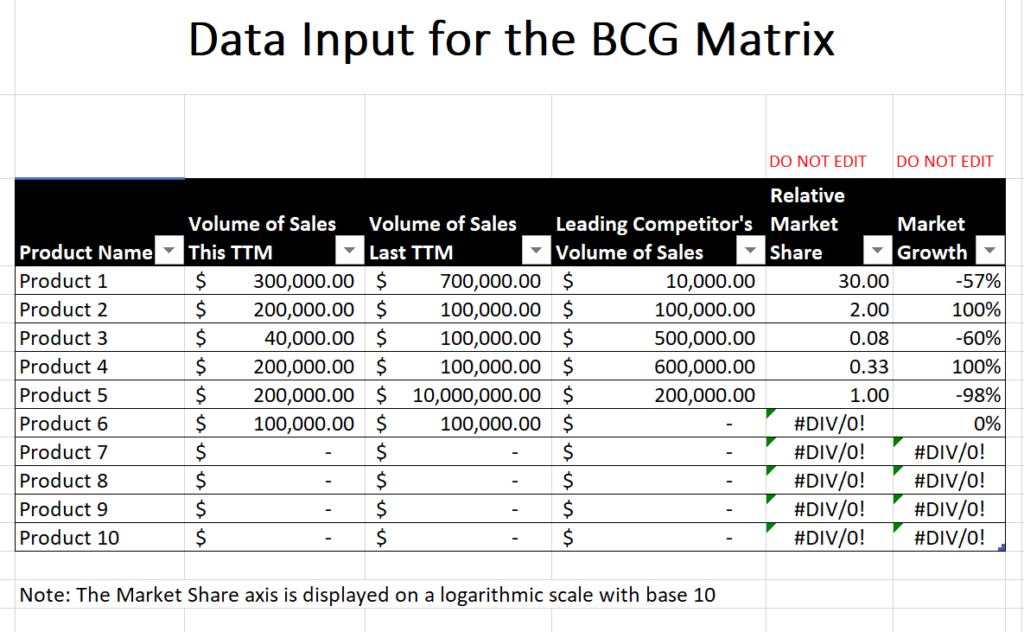 For the most accurate results we suggest using yearly data, but if you only have either monthly or quarterly, those will work as well, but this won't be as accurate in showing the actual Cash Cows, Stars, Dogs and Question Marks. Just make sure to use the same time frame for all cells.
Each row in the input table is for one product. You will need the volume of sales for the latest full year for both your product and the leading competitor's product. This is needed to calculate the relative market share. You'll also need your product's sales data for the last year to calculate the market growth.
Once you've entered the data for a product, the table will automatically calculate the market share and market growth and plot the product on the BCG Matrix. Repeat this process for all the products in the portfolio and you can see a clear picture of what products to focus more on and what you should remove from the portfolio.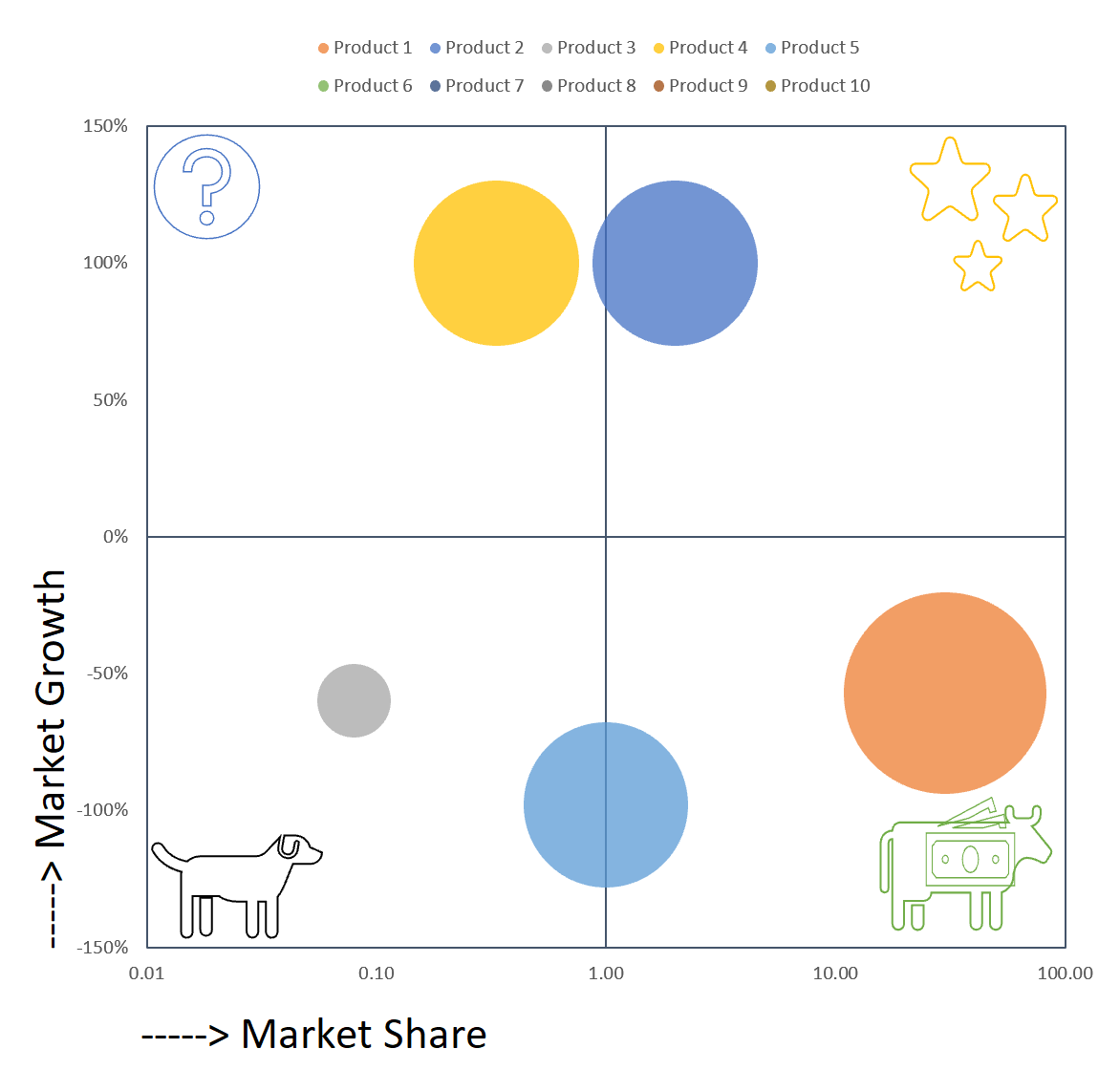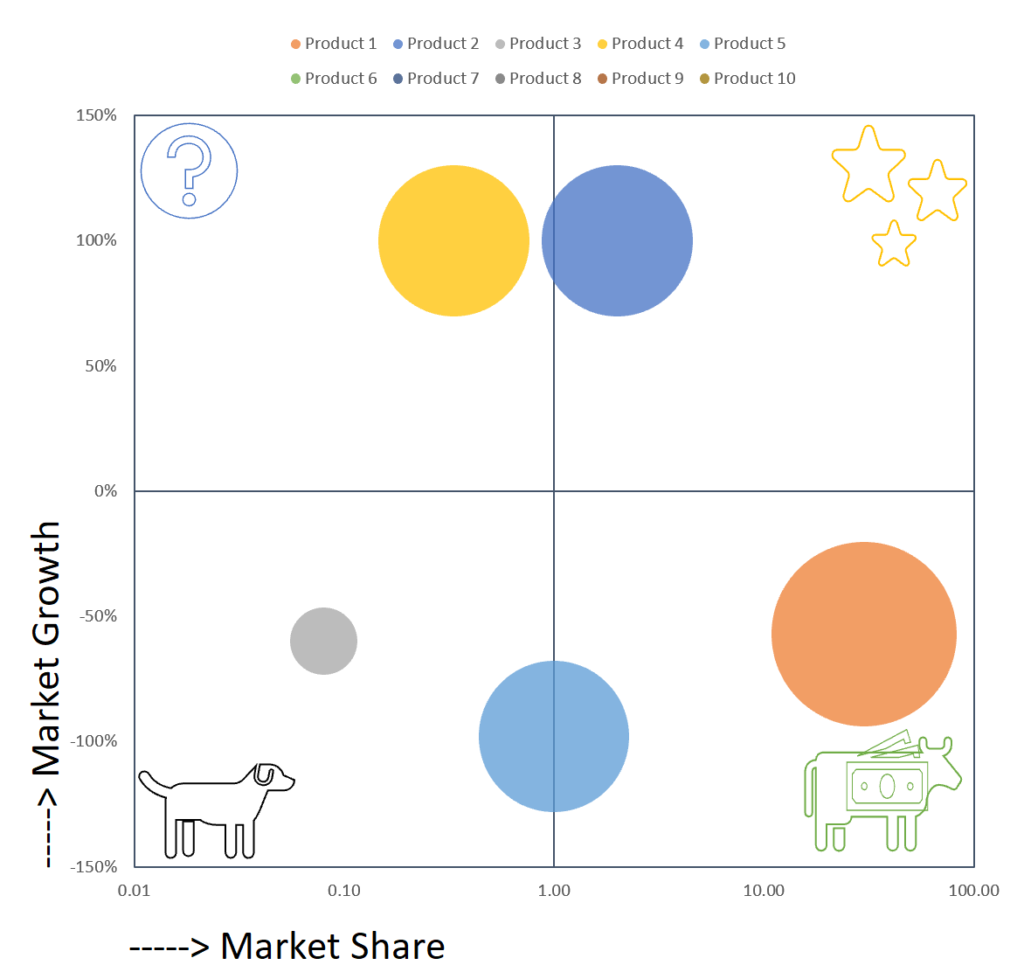 Using the BCG Matrix Template with no Sales Numbers
This template needs sales numbers for the input data (you can put an estimate if you don't have the real data available). But we are working on a Matrix template that you can use even if you don't have any sales numbers (It will have a scale from 1-9 for the market growth and share instead of the real numbers).
We will send out an email about it as soon as we've made it available on the site. If you are not already a subscriber, you can sign up using our newsletter form on the right sidebar.